In the heart of the Democratic Republic of Congo, where lush landscapes paint a picture of natural beauty, lies Abedju Hospital—a vital lifeline for local communities. With approximately 50 beds and specialized departments encompassing gynecology, pediatrics, surgery, and internal medicine, Abedju Hospital stands as a beacon of hope, despite the challenges it faces. Poverty casts a shadow over the region, affecting the lives of many and extending its grasp into the realm of healthcare. Abedju Hospital, like many other institutions in resource-strapped areas, operates under the weight of financial difficulties, struggling to secure the necessary resources to provide quality medical care to its patients. In fact, the hospital's budget only covers around 75% of the funds needed, creating an ongoing battle to bridge the gap and meet the ever-growing demand for healthcare services.

Rising waters, rising hopes: Institute Water for Africa e.V.
To address this situation, Institute Water for Africa e.V. is working on a water supply project for the Abedju Hospital. Currently, hospital staff are compelled to make multiple trips to a water source over 1km away on a daily basis, in order to maintain the hospital's water reservoir. This water is then transported by foot, stored in containers. Problematic is that the water supply arranged is not filtered and therefore often already contaminated with bacteria. This is not necessarily because of the transport, but because the water is already polluted at source. For this reason, Institute Water for Africa e.V. is dedicated to the establishment of a new water supply system on site. At the existing source, water is collected in a deep tank, which is then transported via pipes and with the help of a pump to an elevated tank on the hospital grounds. To ensure the water's safety for use, purification is carried out using sodium hypochlorite (NaClO) treatment. Additionally, the project includes the installation of pipes and sinks in patient and procedure rooms. To ensure responsible use of the new resources, Institute Water for Africa e.V. provides training and education to the local communities (so-called WASH semiars – Water, Sanitation, Hygiene). The focus extends to empowering these communities, particularly the medical personnel, to take ownership of the ongoing operation and maintenance of the newly implemented systems. Thereby the long-term viability of the enhancements is ensured. Similar transformative projects are carried out by Institute Water for Africa e.V. all over Africa.

Stronger Together
As a non-profit organization, Institute Water for Africa e.V. is run by volunteers. They depend on donations to carry out their work. Recognising this, medicalvalues has chosen to actively engage in the Abedju Hospital initiative. We are leveraging our established networks from projects and collaborative ventures within the medical domain to draw attention to an important issue like this and to support the local people. The existing laboratory setup at Abedju Hospital, unfortunately, remains very limited. It barely goes beyond the use of a classic microscope, a few test strips and a handful of analog tools. Regrettably, these provisions fall significantly short of the benchmarks observed in more developed contexts such as Germany. For this reason, we are eager to bring supplementary aids for medical diagnostics to Africa. We aim to substantially enhance Abedju Hospital's diagnostic capabilities. Our goal is to equip the facility with necessary utensils such as hemoglobinometers, centrifuges, pipettes, pregnancy tests and similar materials. With the hardworking organizers and helpers of Institute Water for Africa e.V., these will be transported directly to Africa. In this way, we can ensure the donations collected actually reach their destination. With a shared resolve, we embark on a joint donation campaign, driven by the twin objectives of financing essential medical supplies and contributing to the establishment of much-needed water wells. Every form of support, no matter the scale, contributes significantly to the realization of these goals!
Make the difference
There are several ways to support us in this project. Not only donations but also active participation are valuable for the organisation. Those interested in donating can send their financial contribution under the following data or by scanning the QR-Code from their banking-app:
Recipient: Institute Water for Africa e.V.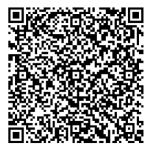 Bank: Evangelische Bank eG
IBAN: DE76 5206 0410 0005 0240 13
BIC: GENO DE F1 EK1
Purpose: P20303 – Laboratory, Address (required for processing a donation receipt Institute Water for Africa e.V. requires this information)
Or at: https://www.betterplace.org/en/projects/116308-water-supply-for-hospital-in-the-democratic-republic-of-congo
Further information on projects of Institute Water for Africa e.V. can be found here:
https://water-for-africa.org/en/
https://www.instagram.com/institute_waterforafrica/