With over 90% the most common type is II diabetes mellitus. It is strongly correlated with obesity and dyslipidemia, but also with genetic predispositions. Prediabetes precedes the manifestation of the disease. According to data from the Department of Trauma and Reconstructive Surgery at the University Hospital of Tübingen, no less than 40-50% of patients there are diagnosed with the pre-stage of diabetes [2], which was usually undetected until the patients were hospitalized. These patients already have a disturbed blood glucose metabolism. Furthermore, like diabetics, they are at increased risk for fractures and infections, as well as problems healing wounds and fractures. This leads to longer hospital stays and increased mortality rates after injury. On the positive side, prediabetes is reversible, especially by lifestyle changes.[3]. This further emphasizes the need for early detection to be as effective as possible.
New possibilities for early detection through AI
In cooperation with the University of Tübingen, the University of Mannheim and Famedly, medicalvalues is working on the development of an AI-based solution for the early detection of (pre-)diabetes. The aim is to identify correlations and new molecular biomarkers.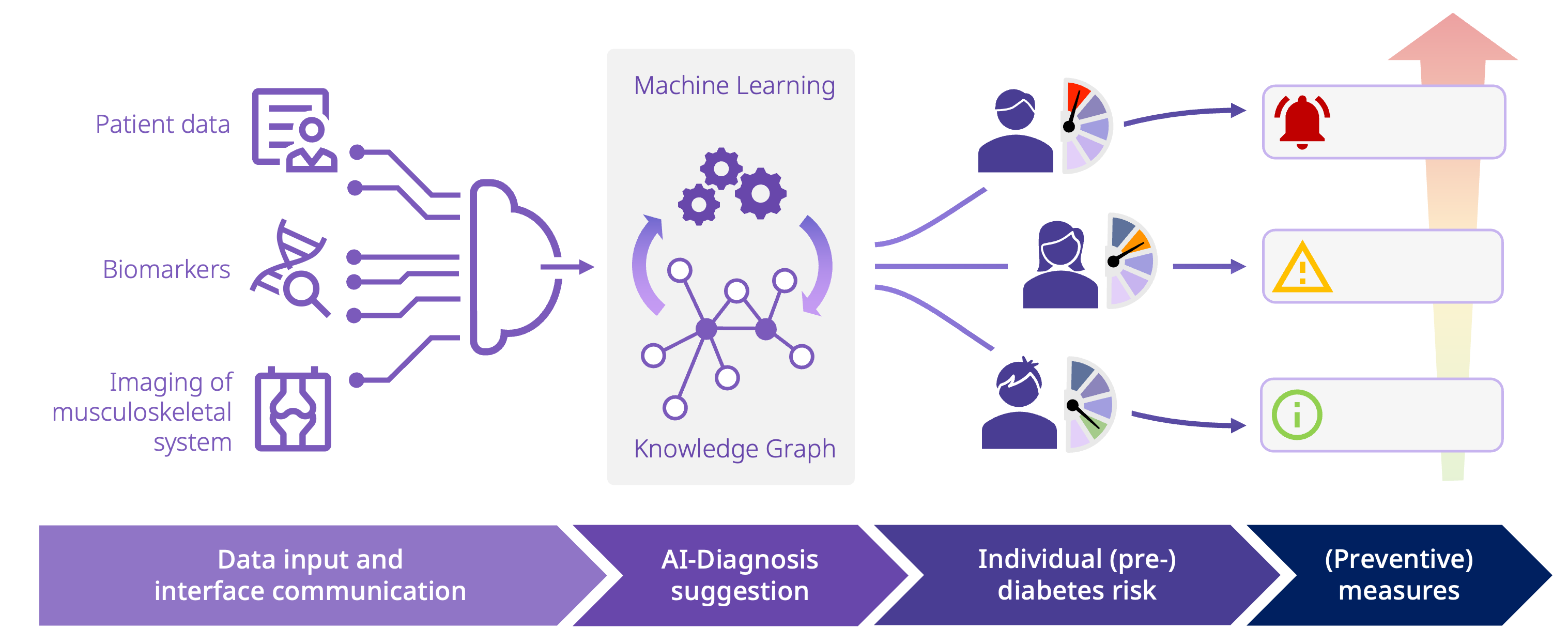 Our hybrid approach integrates modern machine learning, but also existing medical knowledge, OMICS data and recent studies. This enables a better baseline for early detection of (pre-)diabetes without the requirement of big data, which is a clear advantage over existing approaches.
A key feature of the project is the Knowledge Graph as an AI component. It maps contexts and medical algorithms. In this way, the integration of data from different sources is enabled as well as comprehensible conclusions due to the descriptive nature of the graph. Especially in the medical sector, the explainability and comprehensibility of information provided by AI are essential. For smooth functionality and integration, established medical standards such as FHIR, SNOMED, LOINC and RadLex are used.
These are the goals we want to achieve:
The implementation and large-scale use of an appropriate screening for early detection and characterization/risk assessment of patients with (pre-)diabetes risks

Reducing complication rates and shortening hospital stays for patients with previously undiagnosed (pre-)diabetes in acute care settings through targeted optimization of blood glucose levels

Early lifestyle changes and reduction of (pre-)diabetes progression

Reduction of the rate of conversion from pre-diabetes to diabetes by 20%
With this innovative project, we want to improve the patient's life quality in the long term and prevent the disease at an early stage. By increasing the efficiency of the healthcare system, we can minimize the impact of diabetes on society and thereby reduce the burden on the healthcare system.
[2]: Kufeldt, J., et al., Prevalence and Distribution of Diabetes Mellitus in a Maximum Care Hospital: Urgent Need for HbA1c-Screening. Exp Clin Endocrinol Diabetes, 2018
[3]: Phillip Tuso, Prediabetes and Lifestyle Modification: Time to Prevent a Preventable Disease, Perm J. , 2014